---
Renae Tropiano, of Ceramo, said textured three-dimensional tiles were becoming an increasingly popular way to make a design statement.

"From striking, precious-metal finishes to warm and natural stone effects, three-dimensional feature tiles will leave an impression and turn any wall into a work of art, " she said.
Large-format tiles were also a sought-after choice. "Using a large-format feature tile with rectified edges allows for minimal grout joints and creates a seamless look which is both practical and aesthetically pleasing, " she said.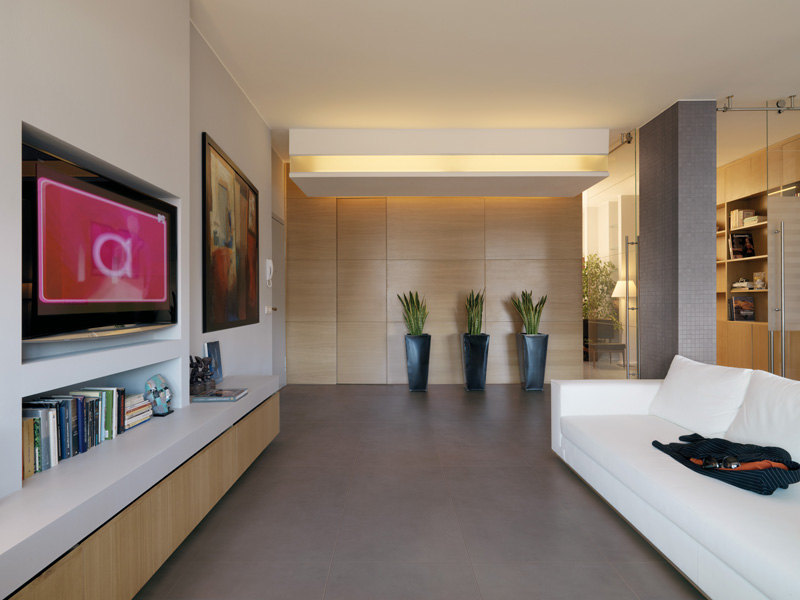 Large-format feature tiles. Picture: ceramo.com.au
Non-traditional shapes were also becoming more popular, according to Myaree Ceramics' Lisa Ciccarelli.

"There is emphasis on shape and form, including octagonal, triangle and circular tiles, " she said.

"People are also using coloured grout, such as black tiles with light-grey grout to give more emphasis to the tile shape."
Non-traditional shaped tiles and black tiles with a light-grey grout. Picture: myareeceramics.com.au
Mark Lo Presti, design consultant at Tile Boutique in North Perth, said decorative tiles — such as Moroccan motifs or customised mosaics — were increasingly popular.

"People who were keeping a house neutral for resale value have realised that, even with neutral tiles, if a house is 10 years old, the tiles are still 10 years old, so are out-dated, " he said.

"So they are making the space their own and choosing something they love and will enjoy."

As well as bold and beautiful designs, Mr Lo Presti said there was a demand for products that reflected nature, such as timber, stone and concrete-look tiles.
Products that reflect nature. Picture: tileboutique.com.au

He pointed to Kerlite, a thin, lightweight tile sheet product he said was a great choice to achieve the beauty of natural wood, stone or concrete. With minimal joins and grout, it was even in demand for areas not usually associated with tiles, such as kitchen benchtops and bathroom cabinets.

The appeal of these natural-look products also applied to floor tiles, according to Richard Newton, of Classical Slate and Tile in Midland.

"The trend is for ceramics and porcelain tiles to imitate natural products, " he said. "They are good at replicating natural stone and slate, sandstone or travertine.

"The advantage of choosing tiles is you don't have the maintenance of natural products . . . these tiles are naturally interesting as each tile is slightly different and they look very realistic."

To achieve the popular concrete look, Paul Spadaccini, of InStyle Ceramics in Myaree, recommended Italian Provenza Re-Use concrete-look tiles. "Clients who love the concrete look but don't want to deal with the upkeep of concrete floors always go for these, " he said.
Italian Provenza Reuse concrete-look tiles. Picture: instyleceramics.com.au


"The concrete tiles on the floor paired with rectified high-gloss white tiles on the wall looks breathtaking with all white for the fixtures like the bathtub and vanity. This creates a fresh and crisp look in the space.

"The concrete look is ultra-modern yet natural."

What's hot

•3-D textured tiles

•Moroccan patterns

•Triangular and hexagonal shapes

•Natural-look tiles such as timber and stone

•Concrete-look tiles

Top tips

Paul Spadaccini from InStyle Ceramics has this advice for using tiles as a design feature:

•Ask yourself how you want the space to feel before you jump at the latest trend. For example, over-decorative retreat features may not create the relaxing environment you desired. Your choices need to complement your space.

•When creating a bold feature, keep the remaining tiles neutral in a complementary shade.

•Check tile sizes. Will aligning tile grout lines line up evenly or need to be offset? This is something you should discuss with your tiler before he starts the job.

•Choose one feature and stick to it. Too many feature points will be lost and appear overdone.

•Complement your feature with accessories of the same colour and tones, whether it be towels, vases or small artworks.
© The West Australian
More Home and Garden at thewest/lifestyle/home
---
---
Featured Home & Garden Businesses
---